MISHKA HENNER'S FEED LOTS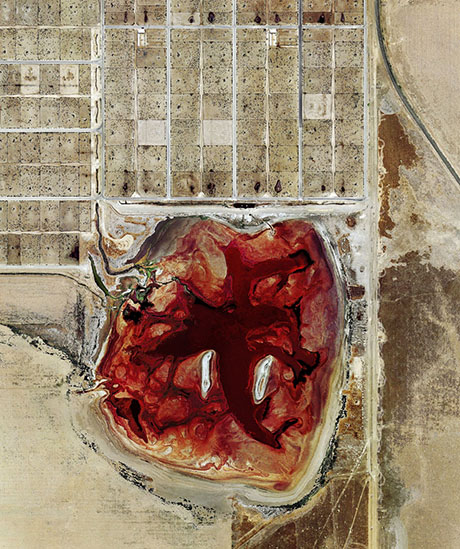 Mishka Henner, Coronado Feeders, Dalhart, Texas (2013), archival pigment print, 102x122cm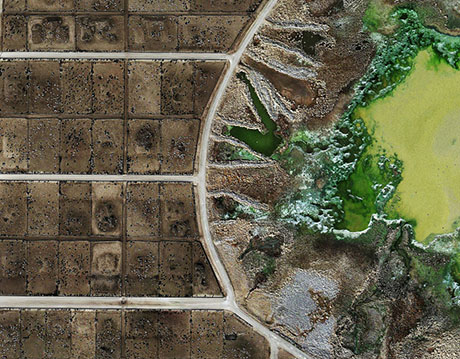 Mishka Henner, Tascosa Feedlot, Texas, (2013), detail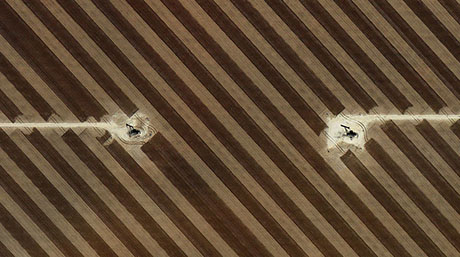 Mishka Henner, San Andres Oil Field, Hockley County, Texas, (2013), detail.
Mishka Henner
's visually arresting photographs of feedlots are composite images, built up from hundreds of digital satellite captures. Seen from above, these vast tracts of industrial farmland become almost expressionistic as neon swirls of industrial runoff punctuate the dead landscape.
Henner's work is fascinating stuff, and this isn't the first time has used digitally-captured images to create seamless, intricate photographic works. Previously, he had pinpointed and enlarged areas that had been censored from satellite imagery, such as ammunition depots and military bases. Through the always-watching eyes of our circling satellites, he has made visible what, due to industrial or political practices, is invisible to the average citizen.
Curious? Check out Nicola Twilley's
compelling article about Mishka Henner
on
Edible Geography
.