THE NEWS FROM HERE: 2013 ALBERTA BIENNIAL OF CONTEMPORARY ART
Curated by Nancy Tousley, this year's Alberta Biennial promises to be a good one. It will explore the trend of "post-regionalism" in contemporary Albertan art -- that is, the move away from discussions about a single, dominant centre and into ideas of engagement and multiplicity that still reflect an "acceptance and consideration of place". Find a selection of participating artists below, and a complete list on
the Biennial website
.
Mackenzie Fr

è

re, Noise Banner, 2012
woven thread
Mackenzie Fr
è
re's interest in textiles, technology, and art has taken his work to exhibitions around the world. His recent
Noise
series layers and incorporates computer-generated bitmaps, random sequences, and other "visual noise that interferes with the perceptual process". Most intriguingly, Fr
è
re uses an online random number generator that is triggered by the atmospheric noise of lightning strikes to generate these works. In his statement about
Noise
, Fr
è
re notes, "This link to natural phenomena is compelling for me as it seems to conflate the digital and the natural. Ultimately the source of the integers I utilize to compose this work is immaterial to its intention as I am more interested in drawing one's attention to the process of perception itself. In
Noise
I am intrigued that hints of repetition, or the occasional alignment of apparently scattered blocks of colour may draw us to construct pattern and make meaning in that which we perceive."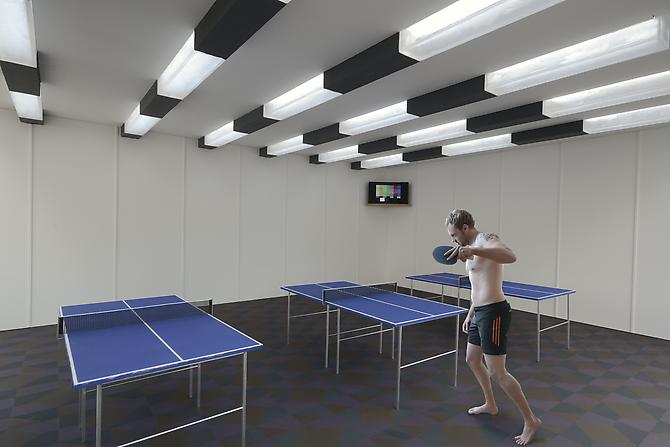 Kristopher Karklin, Ping Pong Room, 2011
digital print, 36 x 54"
Kristopher Karklin uses digital photography to re-create remembered situations and events. His process reflects the contrast between physical events and the ephemeral and distorted nature of recollection, beginning with sculpted miniature models which are then lit, photographed, and digitally manipulated before being presented as large-scale photographs. In this way, Karklin investigates the connection between urban living spaces and their occupants, and slyly layers these worlds into the lens of the viewer's own memories.
(Fun fact: Elton John is an avid collector of Karklin's work.)
Faye HeavyShield, Aapaskaiyaawa (They are Dancing), 2002
acrylic on canvas, plastic filament
Faye HeavyShield is a Kanai-blood sculptor who uses minimal and often monochrome installations to address ideas of memory, family, and place. Of her own work, she says, "My art is a reflection of my environment and personal history as lived in the physical geography of southern Alberta with its prairie grass, river coulees, and wind and an upbringing in the Kainai community (with a childhood stint in the Catholic residential school system). The past, present and imagined make up the vocabulary used to realize my thoughts and ideas; responses and references to the body, land, language."
1
Eric Moschopedis & Mia Rushton, Hunter Gatherer Purveyor, 2013
project image
From
Eric Moschopedis' website
: "
Created in collaboration with visual artist Mia Rushton, Hunter, Gatherer, Purveyor
—a project in art and social engagement—brings together elements of craft, performance, and civic participation to create edible art objects made from local vegetation and civic water sources—popcicles! Composed of three primary public actions,
Hunter, Gatherer, Purveyor
includes: a) the finding and collecting of fruits, grasses, flowers, bark, roots and other edible plant life that grows in specific neighbourhoods in a city; b) the processing of these ingredients into community-specific icepops and; c) the distribution of free naturally flavored popsicles to participants for consumption via a small mobile popsicle stand. Throughout the highly public and performative process Moschopedis and Rushton
are
dressed as hybrid park warden/vendors and act as naturalist and huckster, hunter and gatherer."
The
2013 Alberta Biennial of Contemporary Art
opened last Saturday, January 26th, and will be on at the Art Gallery of Alberta until May 5th, 2013. If you're in Calgary or planning to be, it's an important investigation into the identity of Alberta and contemporary Albertan art that is not to be missed.