BMO PROJECT ROOM - SHARY BOYLE
CANADIAN ARTIST
Shary

Boyle
BMO Project Room - 2012
Yesterday we shared with you the news that Sarah Anne Johnson was the next artist who has been commissioned by BMO to create a work for the BMO Project Room in Toronto. Today we wanted to share with you the images from Shary Boyle's Canadian Artist project that was last year's commission. It is an insightful work that explores what it means to be "Canadian" and a contemporary artist who doesn't necessarily always live and work in Canada.
On this work, Boyle states:
Faced with questions of my dubious pedigree, I began to poke into belonging, blood, and the fate of birth. I prefer irreverence and muddy waters to false notions of purity, absurdity as a closer relation to truth. Canadian Artist presents a preposterous, yet semi-logical, system of ancestry. All relations in this family tree are acknowledged and celebrated. Thieves, slaves, royalty, shamans, gravediggers, colonists, sailors, chieftains and prostitutes—the artist claims all as influence and inspiration.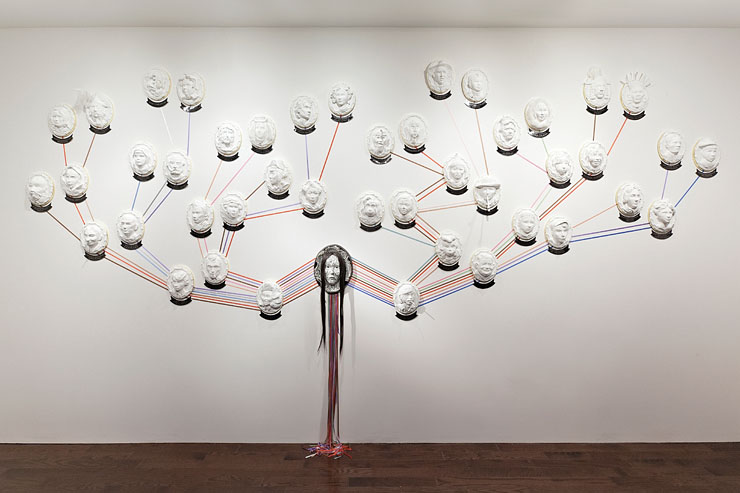 Canadian Artist, 2012, plaster, goldleaf, ribbon, porcelain, hair
An installation by Shary Boyle, commissioned specifically for the BMO Project Room
Canadian Artist, 2012, plaster, goldleaf, ribbon, porcelain, hair
An installation by Shary Boyle, commissioned specifically for the BMO Project Room
Canadian Artist, 2012, plaster, goldleaf, ribbon, porcelain, hair
An installation by Shary Boyle, commissioned specifically for the BMO Project Room
Canadian Artist, 2012, plaster, goldleaf, ribbon, porcelain, hair
An installation by Shary Boyle, commissioned specifically for the BMO Project Room