AGAIN AND AGAIN AND AGAIN: A SERIOUSLY SERIAL EXHIBITION AT THE VAG
Song Dong, Fill the Sea
colour photograph
image source: the Vancouver Sun
On at the Vancouver Art Gallery from now until September 3rd is Again and Again and Again, an exhibition about seriality in art. The exhibition touches upon a plethora of latent themes within the seemingly simple parameters of repetition, from the
"
mechanistic repetition inherent in much domestic work and industrial labour, to the multiple versions afforded by technological developments, to the limits of endurance that have been tested by performance artists".
Carali McCall and Jane Grisewood
installation photograph
image source: Vancouver Art Gallery
Sol LeWitt, Agnes Martin, Frank Stella, Ed Ruscha's iconic Los Angeles parking lots: the heavy-hitters are all there. The exhibition isn't all history, however; it abounds with striking contemporary works as well, from Song Dong's
Fill the Sea,
a symbolic comment on the British occupation of Hong Kong, to mesmerizing photographs of Giverny by Stephen Shore, to a sprawling collaborative drawing by Carali McCall and Jane Grisewood.
Andrew Dadson, Untitled (Black Lean Painting)
image source: Galleria Franco Noero
Local artist Andrew Dadson's leaning paintings are oddly performative, made by a repetitive gesture of pulling and scraping paint upwards across the canvas. They walk a fine line between painting and object, or between sculpture and surface. It is perhaps these pieces that speak most strongly about the labour of art itself.
One of our favourites is what you might call an endurance piece by local video artist, Derek Brunen. Clocking in at a grueling six hours and fifteen minutes, Plot documents Brunen's efforts to dig a grave out of a Mountain View Cemetery plot -- sweat, smoke breaks, phone fiddling, and all. It is accompanied by a photograph of the finished grave itself, a profoundly silent contrast to the living labour of its making.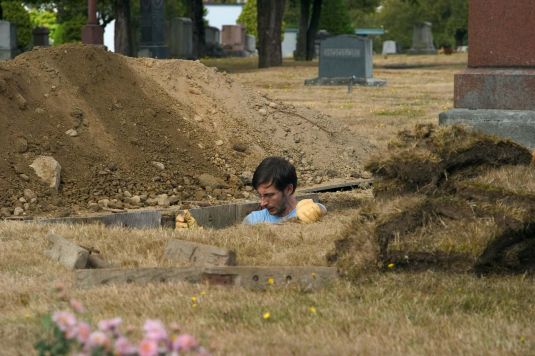 Derek Brunen, Plot
DVC Pro HD
colour, stereo, 16:9
running time 6hr 15 min
2007
image source: Derek Brunen (production still)