ART, FINE WINE, FINE DINING....
Wild Rice
Exhibit curated by Julie Lee
Julie Lee has curated a show at Wild Rice, on Pender Street, showing local artists. It opened Wednesday June 13th, 2012 and is ongoing.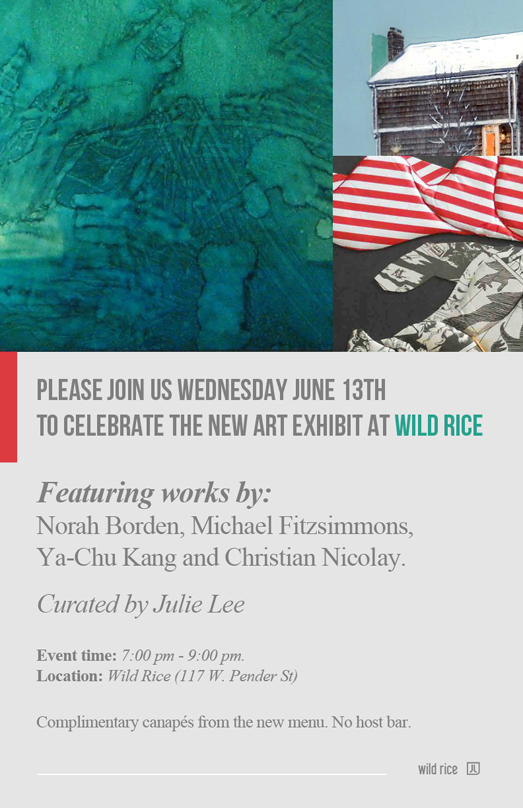 The show was a success and was well attended. Andrew Wong of Wild Rice provided delicious canapes alongside a fantastic array of cocktails and an excellent selection of wine. More photos of the evening can be viewed at Julie Lee's website.
An environmentally conscious restaurant, supporting food sustainability
and urban agriculture, welcomes you to the evening.
Norah Borden and Michael Fitzsimmons taking some time out.
The painting is from her Introspective series.
ENIGMA, 2009
acrylic on canvas, 18 x 72"
That night we were particularly fond of Norah's painting. She told us her latest series is titled
Planet Earth
and is currently featured in
Lonny Magazine
. These aerial perspective inspired paintings will invigorate your consciousness about our place in this world.
UNTITLED by Norah Borden, acrylic on panel, 48 x 48"






For more information regarding the artists and their work, please visit their website or blog.
Michael Fitzsimmon
Ya-Chu Kang
Christian Nicolay
Norah Borden
Photos of the evening courtesy of Belinda Siu